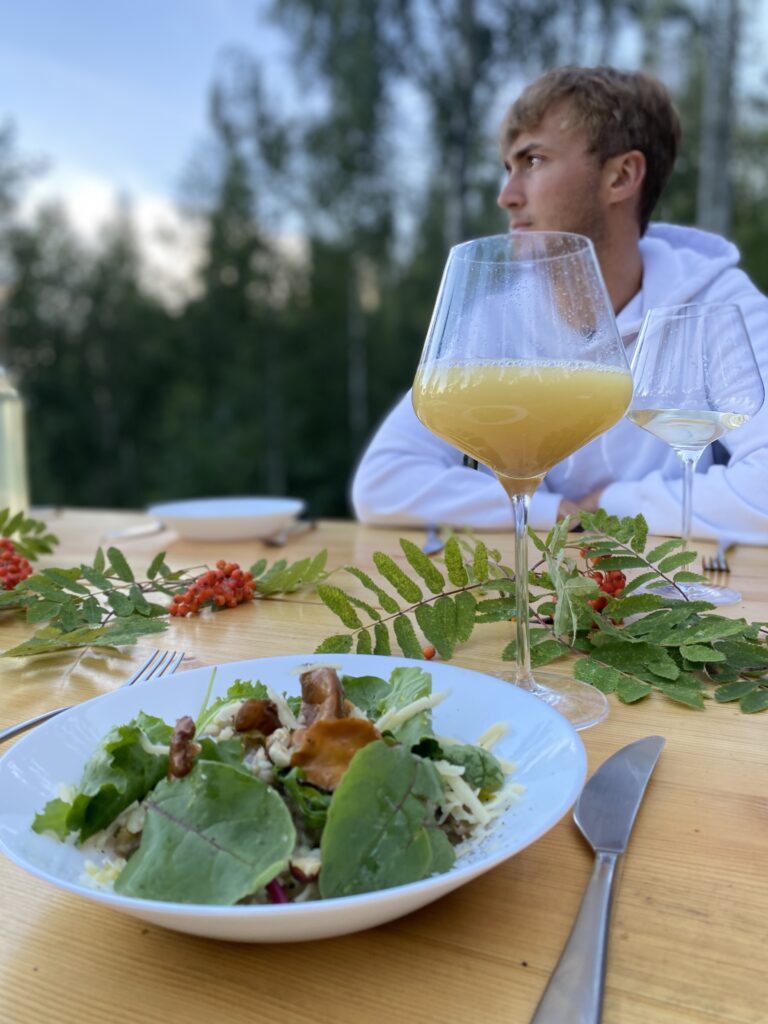 You´ll arrive in the middle of the first day at Orbaden Spa & Resort, a spa hotel in the heart of Hälsingland. It is easy to get here. If you´re coming by train, we willmeet you at the railway station in Vallsta for a short transfer to Orbaden. This is where to check in and leave behind everything that you won´t need for a comfortable stay in the forest. For the next 24 hours, just keep a backpack with a vanity bag, comfortable clothes, and reliable shoes.
Our guide will meet you at the hotel entrance to tell you more about Orbaden and its fascinating history as a health resort. We´ll take a short walk to Orbaden´s Organic Plantation and gather ingredients for the evening´s dinner. What kinds and amounts of greens to be picked will depend on season, inspiration, and our chef´s actual cooking plans.
From the plantation we´ll walk (30 minutes) to our table, Hälsingebordet, where our chef can´t wait to serve a welcoming drink and to tell you about the cooking plans for the evening. You will be carefully instructed how to prepare your kolbulle over the fire, and together we will compose our dinner from local products and greens, perhaps accompanied with a blend of goodies we might have found in the forest on our way to the mountainside. Enjoy your meal!
In case of too bad weather, we´ll move to the brasserie in the local brewery nearby. Whatever the weather will afford us this evening, we will be happy to see you participate in our local culinary traditions, flavouring your dinner with locally produced beer or non-alcoholic drinks from nature.
Having finished the dinner, you´ll have a refreshing walk up the mountain (30 minutes) for the night´s stay at Bergaliv Landscape Hotel. Here, in comfortable hotel rooms (our loft-houses), high above the tree-tops, we give you the opportunity to retreat from the world of things, slow down and empower yourself with the pure energy of nature.
Take your time in the morning, enjoy the concert of birds´ singing, and have your breakfast at place in Bergaliv´s loft-house. Then, walk down (45 minutes) back to Orbaden Spa & Resort where to enjoy your lunch in the exclusive restaurant with grand view over the river and the distant blue mountains. After your lunch, you are welcome to the spa department with sauna and pools by the riverside.
Perhaps you will be tempted to stay a couple of nights in spa hotel? You are most welcome! Orbaden has much to offer…
Minimum 2, maximum 6 participants.
Price from SEK 9,000 per person